Moments of Endearment
(Oui Foo Pai Um Tsoi)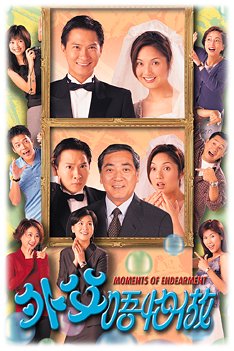 Cast includes: Nick Cheung, Miriam Yeung, Chan Pui, Gigi Fu, Michael Tse Tin Wah, Louisa So, Yuen King Dan, Mary Hong, Mak Cheung Ching, Kwok Fung, Chan Man La, Ho Po Sang, Wallis Pang, Tong Ying Ying

Chung Chi Wai (Chan Pui) plays an insurance agent in this series. He is an overprotective father of Chung Lok Yee (Miriam Yeung Chin Wah), who plays his daughter. May (Yuen King Dan) is Chan Pui's sister and Wai (Mak Cheung Ching) is his nephew. See (Gigi Fu) is Yee's best friend and the daughter of Mary Hong. See works in the same workplace as Yee. Kwok Fung and Chan Man La play Chung's (Nick Cheung) parents. Elaine (Louisa So) is Chan Pui's boss at work.
Episode 1
The story starts out with Chung Chi Wai (Chan Pui) and his nephew, Wai, going to the bank. Chan Pui goes there to get three abalones out of his security deposit box. He stored the abalones there until one day his daughter, Yee, comes home from abroad.
One day Chan Pui goes to work by van. He is short one dollar of taking the van. By coincidence Chan Yun Chung (Nick Cheung) sits next to him and lends him the extra money. Chung introduces himself and then tries to sell insurance to Chan Pui. Chan Pui doesn't want to buy insurance and gets off the van. At work, Chan Pui runs into Chung again but this time, Chung has just started working there. Chung used to work at a bank but he decided to switch jobs. He works under Chan Pui's team.
Later, Chung goes to pick up his friend, Fai (Tse Tin Wah), at the airport. By coincidence Chan Pui, Yuen King Dan, and Mak Cheung Ching are there to pick up Yee, who came back from studying in America. Yee's boyfriend, Sue (Ho Po Sang) also comes back with her. Chan Pui is weary of the idea that Yee already has a boyfriend.
The next day at work Chan Pui noticed Chung talking to a friend who runs an advertising agency in the same company. Chan Pui asks Chung for a favor, to ask his friend to give Yee an interview because she studied advertising in the U.S. Chan Pui couldn't wait for Chung to ask his friend so he went to find Chung's friend right away. He brought along a fruit basket to give to Chung's friend. Chung later went to persuade his friend to give a job to Yee. His friend thought Yee's work was really good and he decided to hire her. Yee was happy that she was hired at the company and she goes out to celebrate with Sue. Yee's father was worried about his daughter so he followed her to the peak.
---
Episode 2
Chan Pui found his daughter and brought her home. Yee didn't realize that her father was actually checking on her. All the while Chan Pui always suspected that Sue wasn't the perfect boyfriend for Yee. Chan Pui and Wai went to Lantau Island to check on Sue and Yee. Yee is actually still at home. Chan Pui and his nephew spotted Sue and followed him to his home. Chan Pui barged into his home and found Sue with another girl, Sandy (Tong Ying Ying). Sue told Chan Pui that Sandy was his godsister. Chan Pui goes home to tell his daughter about Sue and Sandy, but earlier Sue called Yee to tell her about everything. Yee believed everything Sue said and she got mad at her father for not trusting Sue. Next, Chan Pui and Chung tried to meet a client at a bar. Chan Pui sees Sue and Sandy together. He accidentally spilled beer on his client. His client gets mad and leaves. Chan Pui calls his daughter to come to the bar to spy on Sue. Chan Pui gives $500 to Sandy to tell his daughter that she and Sue had something going on. Sandy doesn't tell the truth to Yee. Yee gets mad at her father for interfering in her and her boyfriend's relationship. Later, Yee goes to find Sue at his hotel. Yee sees Sue and Sandy together in the hotel room. Yee slaps Sue in the face and leaves the room. Yee and Chan Pui make up after Yee finds out the real truth.
Chung always admired a girl, Kwan Chi Ling (Wallis Pang), who he used to know a long time ago. By accident he runs into her again after so many years. They start to spend time with each other. Eventually, Chung finds out Ling was the type of girl who went after men with money. He was disappointed that the girl he admired wasn't right for him.
---
Episode 3
Chung and Yee goes to the same bar. Chung is unhappy and gets himself drunk because of his breakup with Kwan Chi Ling. Chung and Yee sit at different tables. Yee sees that Chung is drunk and can't drive home so she offers to drive him home in his car. Yee is unfamiliar with Hong Kong's traffic laws so she drives very slow. The cars behind her think she is driving slow and flash their lights at her (a funny part). Yee isn't paying attention to the road and bumps the car into some boxes. Both of them end up in the hospital with minor injuries. The next day Yee runs into Chung and his father on the street. Yee offers to pay for the repairs on Chung's car since she was the one who damaged it. Chung declines the offer but then Chung's father takes it. Chung's father goes to the repair shop and tells the mechanic to fix the damage on the car and also whatever else needs to be fixed since Yee would take car of the bill. Chung's father asks Yee to dinner so she could give him a check for the repairs. Yee is surprised at the expensive bill and pays it anyway. Chung feels guilty about Yee having to pay for the repair bill so he decides to pay for dinner. Chung's father doesn't know his son is planning to pay the bill. He thinks Yee is going to pay for dinner and orders some expensive dishes. Chung gives his father a weird look for trying to con Yee. Chung tells his friend, Fai, that everytime he runs into Yee he has a sense of bad luck seeing her.
---
Episode 4
Chan Pui makes arrangements to stay at a company house in Lantau Island. He tells Yee and See to go there first since he is still busy work. By accident, Yee and See are staying next door to Chung and Fai. Chung is a bit surprised to see Yee living next door to him and he tries to avoid her.
Chan Pui was supposed to meet his daughter and See at Lantau Island. He accidentally takes the wrong boat and ends up going to Lamma Island. Yee and See are forced to go out to dinner since Yee's father was suppose to bring the food. Chung and Fai go out to dinner and end up at the same restaurant as Yee and See. There were no more tables at the restaurant so Chung and Fai sat at the same table as Yee and See. See didn't like Fai very much because earlier, Fai was talking to his girlfriend, Virginia, on the phone and See accidentally threw something at him and broke his cell phone. They got into a huge argument. At the restaurant, See and Fai continued to dislike each other.
---
Episode 5
Chan Pui goes to get a last check from a woman client. He goes along with his client to shop. Chan Pui sees a purse that is right for his daughter and decides to buy it. His client wants the same purse so they both fight for it. Chan Pui doesn't let go of the purse so the woman steps on his foot. In the end he buys the purse for Yee but he has a big bruise on his foot. Yee made arrangements earlier to go dancing with her father but Chan Pui's foot was swollen badly. Instead, Chan Pui arranges for Chung to go dancing with his daughter. They both had fun together. Afterwards, they go out to eat dessert and Yee notices Chung likes to watch soccer. She gets three tickets to a soccer game for Chung the next day. Chung asks Yee if she would like to go along with him and Fai. Yee agrees to it. Later Chung has to cancel the date because he had to work. Instead Yee and Fai go to watch the game without him. Chung mistakens Yee and Fai as being a couple and tries to avoid Yee. In the meantime, Yee admits to See at a restaurant that she likes Chung. Chung goes to the same restaurant to meet Fai. By accident, Yee and See are at the same place. He overhears what Yee says and chases after her. They both admit that they like each other and start to go out.
---
Episode 6
Yee and Chung go out on their first date. In the meantime, Chan Pui prepared everything for his family to have a family day. He finds out his daughter is already gone early in the morning. The family is curious as to where Yee went. Yee comes home smiling after her date with Chung.
Later Chung's mother arranges her son to have lunch with her, her friend, and her friend's sister. His mother tries to play matchmaker for her son and his friend's daughter. Chung finds out what his mother is doing. Chung blabs out that he is going to meet his girlfriend later. He tells his mother that he is bringing his new girlfriend (Yee) home for dinner but she doesn't believe him. At home, Chung's family were eating take-out food so they were not prepared to greet Yee. They resolved the matter by making dumplings for dinner.
At home, Chan Pui secretly goes into Yee's bedroom to find out who she is dating. He finds a drawing of Yee and a guy (Chung) and he can't figure out who the guy is. Chan Pui goes to Yee's workplace to match the guy's picture with Yee's colleagues but he can't find a match with anyone. Ah See tells Yee that her father was trying to find out who her boyfriend is. Yee thought it was the right time to tell her father that she was dating Chung so she arranged dinner for the three of them . However, Chan Pui didn't have a good reaction towards the news of Yee dating Chung.
---
Episode 7
Chan Pui is furious after his daughter tells him that Chung is his new boyfriend. He tells his daughter not to see him anymore. Chan Pui blames Chung for making him go to a crash course on selling insurance even though he is the team leader. He also tells Yee that Chung is gay (of course, not true). Chung tries to fix his relationship with Yee's father by going to Elaine to turn over his project back to his team leader, Chan Pui. As a result, Elaine makes Chung switch to a better team. Chan Pui's relationship with Chung is further worsened because he is viewed as a traitor for switching teams. Yee and Chung secretly continue to meet each other behind Chan Pui's back. Actually, Chan Pui knows Chung and Yee won't break up so he gets his nephew to go on a date with Yee (his nephew, Wai, who already has a crush on Yee). Afterwards, Yee goes home to test her father to see if he arranged for them to go out a date and he did. Later Chung drives Ah Yee home Yee accidentally drops her keys on the floor of his car. Yee's father happened to walk by and see them together. Chan Pui goes over to Chung's car and hits Chung in the eye. He mistakens Chung for fooling around with his daughter even though he was just picking up her keys.
---
Episode 8
Chung discovers he has a black eye the next morning. Earlier, Chung had won a outstanding insurance award and was supposed to accept it that night. Chung's father finds out that Chan Pui hit his son and goes to the company to yell at him. Chan Pui was actually happy that he hit Chung and believed he did the right thing, whereas Yee was mad at her father for what he did. At home, Chan Pui tries to get his daughter to talk to him again but she just ignore him. Later Yee sees that her father has a stomach ache and goes to check on him. Chan Pui actually has some food in his room. His sister tries to find his stomach ache pills and finds the food hidden under his bed. Yee ignores her father the next day. Chan Pui gets the fever and almost faints on the street. Yee and Chung finds out Chan Pui is sick and goes home to visit him. Eventually, Chan Pui realized how much Chung meant to Yee so he allowed them to date. He gave Chung three rules to follow by if he wanted to date Yee. The first rule is Chung has to tell Yee's father where they are going; the second, he has to bring Yee home before 11:00, and third, he has to treat Yee well. As they continue to date, Chung realized that he couldn't be without Yee so he asked Yee to marry him.
---
Episode 9
Yee goes home to tell her father that she is planning to marry Chung. Chan Pui doesn't take the news very well and he gives her a whole bunch of reasons to not marry Chung immediately. Actually, Chan Pui is not ready to let his daughter go, whereas Yee wants to leave the nest. Next, Yee and Chung go to the bank to open a joint-savings account. Chung decides to move out of his parent's home and into in his own apartment. Yee decides to live there in her spare time. They both wanted their own space, away from everyone else. One day, his colleague from work goes to his house to pick up a document and notices Yee there. The colleague spreads a rumor around the office about Chung and Yee living together. Yee's father still doesn't know Chung moved out of his parent's house. May and Wai find clues about Yee living together with Chung. They go to Chung's new apartment to check them out. May calls her brother to tell him about Yee and Chung living together. Chan Pui doesn't take the news well. His colleagues continue to talk behind his back about Chung and Yee. Chan Pui decides to let Chung and his daughter get marry to stop their rumor around the office. Both families get together to discuss the wedding plans. Chung's father isn't willing to pay for a banquet even though Chan wants to hold one. Chan Pui and Chung's father get into an argument and they can't decide how to hold the wedding.
---
Episode 10
Chung and Yee try to scrap together enough money to hold their own wedding. Chan Pui finds out they are having a hard time saving money, so he decides to lend them the money. Chung and Yee plan to hold their wedding at a hotel. Yee goes overboard by spending a bundle on an expensive dress and ordering an eight-story cake. Later, Fai tells Chung and Yee that Chan Pui didn't have enough money and he had to take the rest out of his retirement fund to pay for their wedding. But Chan Pui wanted to hold a dream wedding for his only daughter. Chung and Yee realized how selfish they were and they cut back on some costs of their wedding.
Chung, Fai, and his colleagues from the office have a bachelor party and they all get drunk that night. Chung and Fai are late for the wedding the next morning. Yee is at the church ready to get married. When Chung does arrive at the church, he is not prepared to marry Yee (he didn't shave and his tuxedo was sloppy worn). Yee decides to not marry Chung at the spur of the moment.
---
Episode 11
Chung gets down on his knees to beg Yee for forgiveness. Yee forgives him and they get married. Chan Pui even shed a few tears while they said their vows. After a few days, Chan Pui starts to get lonely and decides to take a flower arranging class to pass the time.
Yee gets sick on her honeymoon so she comes back one day early. Chan Pui and May goes to their house to visit them. Chan Pui finds every way to complain about their house so they would move back home. Afterwards, Chan Pui goes home right away to cook soup for Yee (a funny part). The next day, he brings the soup for Yee and Chung at the office. Later, Chung and Yee are forced to move out of their apartment because the owner wanted to take back the building. Chan Pui finds out Chung and Yee have no place to stay and he asks them to move back home, but they decline the offer. Yee and Chung secretly go house-hunting. Chan Pui discovers what they are doing and he goes to find them.
---
Episode 12
Chan Pui stops them from renting the apartment. He tells them the apartment is dirty-looking and not facing in a good direction. At work, Chan Pui orders his colleagues to help him look for a good apartment to rent. Elaine overhears Chan Pui mentioning that he is looking for an apartment. Elaine tells Chan Pui that her friend (Tok Hing, also ex-boyfriend who came back from Indonesia) happens to be looking for an apartment and she asks him to go along to give him advice. Chan Pui was trying to look for a good apartment for his daughter and son-in-law to live in, even though he was only suppose to tag along to help Elaine's friend find one (a funny part). Later, Yee's father discovers his next door neighbors are renting their apartment so he goes to check out the asking price. The price was too high for Yee and Chung to afford so Yee's father finds a way to get the neighbors to lower their renting price to $12,000. He gets Wai (nephew) to pretend to be another prospective renter for the apartment. Chan Pui put on a show for the renter to encourage them to rent to Chung and Yee. Afterwards, he tells his daughter the rent is only $8000, while the remaining amount he was going to help them pay every month. Chung and Yee actually believe they are getting a bargain for their apartment so they don't know that Chan Pui is paying the remaining amount of rent money.
---
Episode 13
Chung and Yee moved into their new apartment. Chan Pui even made an extra key to their house for himself so he could bring them soup everyday. Sometimes he would go to their house unexpectedly.
Next, Elaine goes to meet a client at a karaoke bar to sign an insurance contract. The client comes on to Elaine. Chan Pui happens to drop by to bring Elaine the contract and he sees the client harassing her so he hits him. Afterwards, Chan Pui drives home Elaine. Elaine drops her keys on the car floor so Chan Pui helps her pick them up. Elaine's father was just coming home when he sees Chan Pui bending down on Elaine's lap. He has a terrible reaction so he goes over to the car to hit Chan Pui in the eye (a similar incident that happened with Chan Pui and Chung). Elaine's father mistakens Chan Pui for his daughter's ex-boyfriend, Tok Hing. Elaine's father was against his daughter dating Tok Hing. Also, he was the one behind the breakup of them because Tok Hing was born in the year of the Rat which he assumed was bad luck (a superstition). Later Elaine's father apologizes to Chan Pui for the mistake. Chan Pui starts to have some feelings for Elaine.
---
Episode 14
This episode begins with May walking in late at work. By accident, Tok Hing is her new boss at work (their relationship as boss and employee doesn't go well in the beginning but they grow to respect each other). Tok doesn't yell at her. May tries to test Tok by doing everything wrong - she drops stuff on the floor and she sprays water on him, but he still doesn't yell at her. May wonders why her boss doesn't have any reaction to her wrongdoings and figures out he likes her. Later, May and Tok admit they like each other. Tok brings May home after their date. Chan Pui was throwing out the trash when he sees them together. The next thing Chan Pui chokes Tok Hing to death because he assumes Tok was dating two people (Elaine and May). Afterwards, Tok tells Chan Pui that he already clear things up with Elaine and they are only good friends. Chan Pui is happy to hear that nobody is dating Elaine, so he starts to chase after her. They go to watch a movie on their first date. At work, they keep their relationship a secret because they are afraid their colleagues might talk behind their back. Also, Elaine doesn't tell her father because she is afraid that he would chase away Chan Pui just like what he did with Tok Hing. A coincidence is Chan Pui was also born in the year of the Rat.
---
Episode 15
In this episode Chung and Yee find out from Yee's cousin that Chan Pui was paying the remaining $4,000 on their rent. They felt bad that they were wasting money while Chan Pui was trying so hard to pay for their rent. Chung and Yee decide to save money so they could pay back the money to Yee's father.
The next day Yee goes shopping for groceries and someone tries to steal her wallet out of the purse. Yee chases after the robber and eventually she retrieves her wallet. Chung also experienced a bad day at work. He tried to sell insurance to a client but the client turned out to be mentally disturbed. Chung wasted his time following the client around the whole day. The bad thing was the client reported Chung to his company. At home, Chung and Yee get into a bad argument after both of them had the worst days of their life. Yee tells Chung that she wants a divorce at that particular moment and he agrees to it.
---
Episode 16 & 17
Yee moves back to her father's home. At work, Chan Pui finds out that Chung was fooled around by his mentally disturbed client. The next thing, Chan Pui arranges for Chung and Yee to meet each other at a restaurant. They both tell each about their bad encounters and they made up.
Next, Elaine and Chan Pui continue to date each other. All the while, Elaine's father suspects his daughter is dating someone who is bringing bad luck to them. Therefore, Chan Pui and Elaine find a way to make Elaine's father accept Chan Pui. They found ways to encourage Elaine's father that Chan Pui was actually bringing good luck to them. Also, Chan Pui goes to bribe Elaine's father's fortune teller (the one he always goes to for advice) to tell him that people born in the year of the Rat do bring good luck (a lie). Afterwards, Chan Pui tells Elaine's father that he was born in the year of the Rat. Elaine's father goes to consult his fortune teller and he finds out that Elaine and Chan Pui can date. He also gives Chan Pui the three rules to follow by if he wants to date Elaine.
---
Episode 18 & 19
Chung decides to seek the job of team leader at the company by working harder. He decides to take a Marketing course at night school. The first day of class he runs into Kwan Chi Ling - the girl who dumped him in the beginning. She now has a new life which is more stable and she doesn't go after rich men anymore. Ling and Chung started to become good friends. Meanwhile, Chung starts to neglect his wife because he is determined to get his promotion at the company.
At work, Yee is laid off from the company. She was about to leave the company when she saw Chung and Kwan Chi Ling together. Yee mistakens Chung and Ling for being involved. Actually, Ling was trying to help Chung get back a client's folder because earlier, she had accidentally picked it up by mistake and thought it belonged to her so she gave it to her boss. Chung was desperate to retrieve the folder. Chung and Ling had to go to Macau to find Ling's boss and get back it. Afterwards, Chung goes home and he notices that his wife has moved out. He finds out his wife saw Ling and him together on the street so he tries to tell her the truth but Yee still didn't believe him.
Later, Chung runs into Ling at a crystal shop. Chung was planning to buy a crystal apple for Yee to persuade her to forgive him. By coincidence, Yee and her cousin go into the shop and see them together. Yee and Chung get into a big argument and they have a misunderstanding between them.
At the end, Yee tells her father that she plans to go back to America to continue her studies. Chung eventually finds out his wife is leaving and he arranges to meet her. Chung and Yee meet each other but they can't fix their relationship. Yee tells her husband that they should never see each other again. Afterwards, Yee goes to pick up her airline tickets and she bumps into Kwan Chi Ling outside the travel agency. Ling explains to Yee that she and Chung had nothing between them. Yee starts to feel guilty for mistaking Chung for having an affair with Ling.
---
Episode 20 (The Finale)
The colleagues at the company begin to suspect that Chan Pui and Elaine are involved in a relationship. They notice that Chan Pui is always working overtime and finding ways to sneak out of the office to meet Elaine. At home, Elaine's father finds out from his fortune teller friend that Chan Pui has been lying to him about bringing good luck to Elaine and him --just so Elaine and Chan Pui could date each other. Elaine's father forbids his daughter from seeing Chan Pui. Chan Pui tries every chance to persuade Elaine's father to let Elaine and him be together but still no luck.
Chan Pui was upset because Elaine's father still didn't let him date his daughter. Next, Elaine's father brings a well-educated man to meet his daughter at her workplace. Chan Pui sees the guy and he is a bit jealous. Elaine's father tries to get his daughter and the man together, but Elaine has no interest in him.
At the end, there was a bad incident that happened at the company. One of the client's husband came to the office to claim an insurance for his wife because the wife had cancer. Earlier, the wife did not state on the insurance form that she had cancer, therefore, the company wasn't able to pay her insurance money. The man was in a bad state so he held Elaine hostage. Chan Pui was worried about Elaine's safety so he tried to fight off the man and he got himself cut on his arm. Chung also tried to fend off the man and he got injured, too. Elaine's father noticed how Chan Pui saved his daughter's life that he let them be together. Also, Yee and Chung made up at the hospital.
* See (Gigi Fu) and Fai (Michael Tse Tin Wah) became a couple in this series too. At the beginning, Fai was dating a girl named Virginia who was an up-and-coming model/actress. She was the type of girl who went after rich men. Virginia was always using Fai and she never really loved him. Later, Virginia dumps Fai and goes off to Japan. Fai was hurt with the breakup but he had See to comfort him. They grew to like each other (See and Fai hated each other in the beginning) and almost became a couple, until Virginia came back from Japan. See said some bad things about Virginia (true stuff) which made her dislike See. Virginia tried to get revenge at See by taking back Fai. She even lied about having cancer just to get back Fai from See. Eventually, Fai found out about Virginia's lie that he broke up with her. Later See and Fai became a couple at the end.
I really enjoyed the series because there were a lot of parts that were especially funny. This series reminded of the American movie "Father of the Bride." Chan Pui does a great job as an overprotective father of Yee. He is always worried that his daughter will leave him. Chan Pui is always doing everything for the sake of Yee. He eventually realizes that he must let go of his little girl. Later, Chan Pui learns a lesson or two since he chases after Louis So as his girlfriend. Louisa's father is bit protective of his daughter, too. It's funny that Louisa's father gives him the same three rules to follow by if he wanted to date Louisa. Nick and Miriam had good chemistry together. The best performance in this series was by Michael Tse Tin Wah because he played his part of a queer man (he acted that way and he was not really gay) wonderfully.